SUPPORTING YOUR CRITICAL
ENVIRONMENTS WITH OUR
CONTAMINATION
CONTROL SOLUTIONS
WHY CHOOSE INTEGRITY?
Integrity Cleanroom is part of the Ant Group, an established and respected supplier of static control products and cleanroom consumables for over 30 years.
We offer an extensive range of high-quality cleanroom consumables, developed to meet your industry needs. With an established product range and an unrivaled customer service ethos, Integrity Cleanroom consumables have been applied in the medical, automotive, defense, aerospace and electronics industries.
Based in the UK, our distribution centers span Europe, Asia, and North America, giving a truly global platform for delivering time-critical solutions even at short notice. Quite simply, we offer the right product in the right place at the right time.
WHAT WE DO
SUPPLY CHAIN MANAGED SERVICES
We work with our customers to provide savings in component purchase spend. We also specialize in inventory management, carriage and supply chain management cost reduction, rationalization of suppliers, streamlined documentation processing and ongoing cost saving alerts. The transfer of specified key procurement activities relating to sourcing and supplier management to a third party improves speed, efficiency and focus on its key strategic objectives.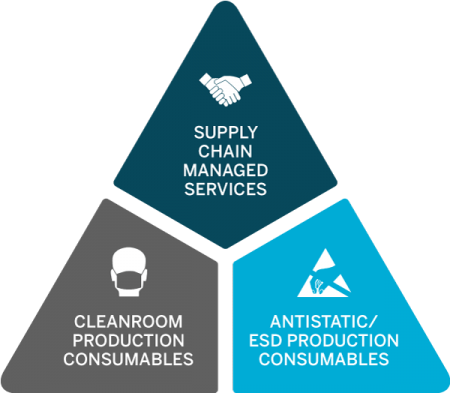 Supplying 900+ active customers across 48 countries

Key catalogue and distribution partners globally

Worldwide sourcing, manufacturing and distribution networks

Direct sales and vendor network throughout the States

Global service team to manage all supply chain operations

Specialists in cleanroom and production consumables

Experts in ESD technology and supplies

Experts in global supply chain managed services

150,000 sq. ft US based distribution center

Offices and distribution centres across both EU and US